ALIENWARE 15 M15 R6 i7-11th
Les grandes histoires ont une personnalité. Envisagez de raconter une belle histoire qui donne de la personnalité. Écrire une histoire avec de la personnalité pour des clients potentiels aidera à établir un lien relationnel. Cela se traduit par de petites spécificités comme le choix des mots ou des phrases. Écrivez de votre point de vue, pas de l'expérience de quelqu'un d'autre.
Les grandes histoires sont pour tout le monde, même lorsqu'elles ne sont écrites que pour une seule personne. Si vous essayez d'écrire en pensant à un public large et général, votre histoire sonnera fausse et manquera d'émotion. Personne ne sera intéressé. Ecrire pour une personne en particulier signifie que si c'est authentique pour l'un, c'est authentique pour le reste.
UNCOMPROMISED VISUAL PERFORMANCEStill first in fast: The Alienware m15 R6 is our latest 15" M-Series gaming laptop to carry a 360Hz4 optional display. The impressively fast refresh rate ensures seamless gameplay and incredible visual performance.

Crystal-clear action: Whether you're gaming at your leisure or in the thick of battle, never miss any critical details thanks to smoother gameplay. Thanks to our deliberate engineering decisions, the latest m15 is incredibly fast starting from 165Hz. But we didn't stop there. The latest m15 R6 offers smoother gameplay during high-speed action thanks to NVIDIA® G-SYNC® technology that synchronizes your display's refresh rate with the performance your graphics card is capable of—available only on the optional 360Hz FHD (1920 x 1080) resolution and 240Hz QHD (2560 x 1440) resolution displays.

Give your eyes a break: Each m15 R6 display option includes our ComfortView Plus low blue light technology. This is a hardware-based approach to filtering blue light without harming image quality designed to give you confidence to game for hours on end.

SATISFY YOUR NEED FOR SPEEDThe Alienware m15 R6 is engineered to offer variety. Whatever your gaming needs are, this laptop is here to not only meet them, but exceed them by raising the standard for display technologies.

Fast is a given: The latest m15 R6 comes standard with an impressively fast refresh rate of 165Hz and FHD (1920 x 1080) resolution for brilliant visuals and unforgettable gaming experiences every time.

Uninterrupted gaming: Speed was the goal; better gaming is the result. A 240Hz configuration increases the resolution to QHD, which means almost twice as many pixels as an FHD display at an exceptionally fast refresh rate to ensure your games look sharp and feel smooth.

Our fastest refresh rate: We didn't stop until we accomplished the previously impossible. Experience our fastest display option on a 15" gaming laptop, now set at 360Hz. Available in FHD resolution, it's the perfect refresh rate for competitive gameplay where your reflexes can keep up with high-speed action thanks to smoother graphics - the ultimate choice for the ultimate win.

Smoother support: With the goal of smooth gameplay in mind, the 240Hz and 360Hz panel options also support NVIDIA® G-SYNC® technology which enables a better handshake between the refresh rate of your display and the refresh rate that your GPU is capable of providing.

Windows Hello: Get your mission started sooner with a password that's as personal as it gets using the newly added Windows Hello facial recognition – available with the QHD 240Hz or FHD 360Hz panels.5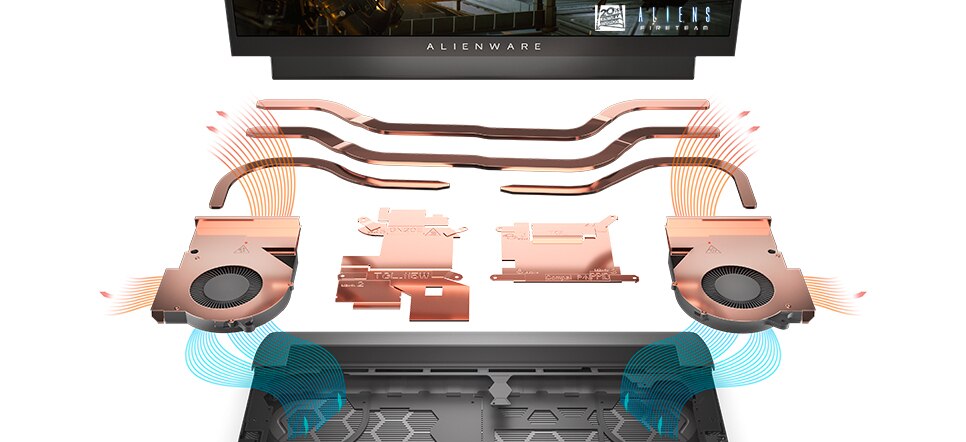 ADVANCED THERMAL ENGINEERINGTo us, design is more than just mechanics – it's art. Alienware Cryo-Tech™ Cooling Technology is an engineering approach that doesn't compromise your system's gaming performance by means of electrical and mechanical methods, and instead maintains your system's stability even during the most intense gaming moments.

Airflow at its finest: Our new m15 R6 chassis prioritizes performance with a dual fan design that pulls in cool air from the top and bottom vents, and exhales exhaust out the left, right, and rear vents for optimal cooling of the core components. 

Consider your thermals managed: If you want to control your system temperatures directly, now you can manage your CPU's maximum temperature limit by modifying a setting in your BIOS called TCC Offset. Beyond this, gamers can adjust their power settings across one of five unique fan profiles in our Alienware Command Center software according to whether performance or battery life are prioritized, with various options in between.

Load balancing heat pipes: The dynamics of thermal activity across critical components like the GPU and the CPU are intelligently discharged across four copper composite heat pipes of up to 3mm in diameter.

High voltage driving fan: The fire resistant, liquid crystal polymer fan blades include sleeve bearings and 3 phase fan control to create less friction and circulate air more efficiently.

POWER PRIORITIZEDPower up the action: With 11th Gen Intel® Core™ processors enabling up to 8-cores and 16-threads of multi-threaded performance, the new Alienware m15 R6 is ready to take you to new gaming heights.

Prepare for the win: Make every mission a chance to show off your skills with optional NVIDIA® GeForce RTX™ 3080 graphics offering higher performance. Included with the Alienware m15 R6 are NVIDIA's 3rd-Gen Max-Q technologies which include support for Dynamic Boost 2.0 for additional graphics power, Resizable BAR to improve CPU to GPU processing, and Deep Learning Super Sampling (DLSS) technology where AI works to boost your frame rates when your graphics card is working the hardest. With NVIDIA® GeForce RTX™ 3080 and Dynamic Boost 2.0 enabled, the m15 R6 is rated for up to 125W of maximum graphics power.

Loaded with memory: The Alienware m15 R6 introduces DDR4 3200Mhz or 2933Mhz memory to our 15" laptops, taking your mega-tasking abilities to a new level. It even lets gamers upgrade their memory post-purchase, using the two available SO-DIMM slots.

High-speed attack: Killer DoubleShot™ Pro allows the use of both the Killer Wireless and Killer Ethernet interfaces at the same time. This will provide more usable bandwidth to the end user. Killer E2600 1G Ethernet is capable of handling 1 Gbps of traffic and the Killer Wi-Fi 6 AX1650 is capable of handling up 2.4 Gbps of traffic. Killer DoubleShot Pro allows both of these interfaces to work at the same time which will give the end user max throughput as high as 3.4 Gbps.

THE KEYS TO VICTORYBuilt for gamers: The incredibly responsive keyboard features 1.8mm travel with standard 4-zone RGB N-Key rollover and anti-ghosting technology.

More options, more wins: Alienware's exclusive ultra-low profile truly mechanical laptop keyboard offers the opportunity to extend your senses into next-level immersion. Experience real mechanical key switch design and architecture that's exceptionally tactile and audile.

CODEVELOPED WITH CHERRYDesigned to be premium: This optional keyboard includes German engineered stainless-steel switches, constructed with a gold-plated electrical contact enclosure which ensures that all keys6 on the keyboard feel exactly the same. Additionally, you can type at your leisure with an assurance against failure and up to a 15 million keystroke lifecycle.

Feel the difference: Experience uniformly smooth travel no matter if you hit the key center or off center thanks to the mechanical design within the anatomy of each key's switch. This technology delivers an anti-wobble feel with an increased total key travel of 1.8mm.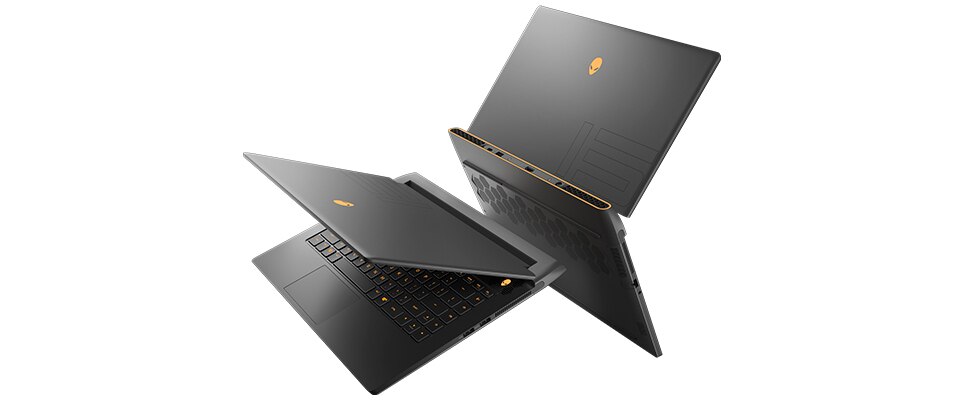 AN INNOVATIVE EVOLUTIONWe took the purely geometric balance and blended bone lines on our renowned Legend industrial design and reached it to new heights. Experience a new dark core interior that removes distractions and provides an aesthetically pleasing side profile to hide all of the ports, holes and vents. Plus, an innovative, modified extrusion makes our design that much more seamless, and our stain-resistant paint design just got even more captivating thanks to a new silky-smooth finish.

Votre snippet dynamique sera affiché ici... Ce message s'affiche parce que vous n'avez pas défini le filtre et le modèle à utiliser.